The Aegis Trust has developed a successful model for peace education in Rwanda, supporting tens of thousands of young people across the country with the knowledge and skills to overcome the legacy of  genocide.
Peace education started as a pilot in 2008 at Kigali Genocide Memorial. A participatory and interactive methodology, where participants learn by doing, is central to Aegis' peace education programme. In 2013-16 the programme expanded to cover 22 districts, through the Aegis-led Rwanda Peace Education Programme (RPEP) and the Genocide Research and Reconciliation Programme (GRRP). Programme partners included USC Shoah Foundation, Radio la Benevolencija and the Institute of Research and Dialogue for Peace (IRDP).
In 2014, the Rwanda Education Board announced inclusion of peace and values education as a cross-cutting subject in Rwanda's new national curriculum.
From 2016-19 Aegis Rwanda's Education for Sustainable Peace in Rwanda (ESPR) programme is supporting the curriculum change, embedding peace and values education in the classroom, while strengthening the skills of teachers through Peace Schools. A major shift of the new competency based curriculum is the emphasis on skills: critical thinking, empathy, personal responsibility and trust are strengthened through interactive teaching methods. This 3-year programme focuses on Teachers and Parents as educators as well as Youth.
An international Colloquium held in Kigali in Feb 2017 brought together experts working on peace education to discuss Strengthening Resilience to Genocide: Concepts, Methods and Impact.
On Soundcloud
Interview with Jean Nepo Ndahimana, an education officer for the Aegis Trust, conducted in Rwanda in 2014 by the journalist and actor Felicity Finch.
Independent report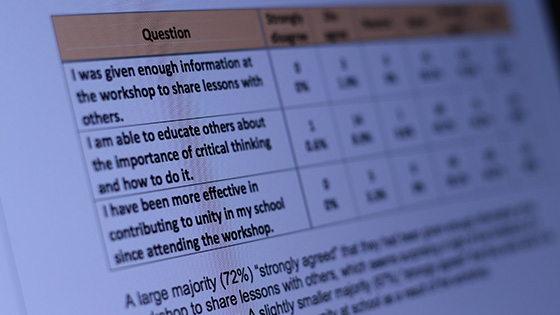 Analysis of Aegis' peace education by Minerva Research in 2012 indicated a positive impact not only on participating students but on entire school communities.
Change of heart
98.8% of participants independently surveyed in 2012 agreed with the statement,
"The feelings in my heart have changed as a result of attending the workshop."
Geographic reach
The Rwanda Peace Education Programme is set to visit 20 of Rwanda's 30 districts. Seven were visited in 2014. Before that, Aegis ran peace education only at the Memorial.
National curriculum
Inclusion of key elements from the Rwanda Peace Education Programme in Rwanda's national schools curriculum in 2015 means in future, every child in Rwanda will benefit.
International model
Local leaders have asked Aegis to bring peace education to two of the four countries the UN identifies as 'L3 emergencies' – the World's most severe humanitarian crises.
Peace education in Rwanda
News about peace education
"The Aegis Trust has helped Rwanda to rise from the Ashes. We have seen the result: Rwandan youth have understood the past that led them into darkness… It's about time that our friends from Rwanda come and help us."
Archbishop of Bangui, CAR