Our social enterprises help make Aegis' genocide prevention work sustainable...

Social enterprise offers another way to help survivors rebuild - through training and employment

Through social enterprise, we can also ensure that every donation you give goes further.
Aegis initiated social enterprises in 2009 in order to raise funds to support the organisation's programmes, to establish self-sustainability, to provide training and career opportunities to beneficiaries from Aegis' Rebuilding Lives Programme, and to support Aegis' mission to prevent genocide. Today these enterprises include handpicked recycled fashion outlets in the UK and award-winning travel accommodation and services in Rwanda.
Aegis' social enterprises in Rwanda principally involve services for visitors at the Kigali Genocide Memorial – including a café and book shop – and the 'Discover Rwanda' facilities for travellers in Kigali, Gisenyi and Kayonza.
Opened in 2010, the Discover Rwanda Youth Hostel in Kigali was the first of these. Highly rated on Tripadvisor, it has now been country winner of the annual Hostelworld 'Hoscars' three times in a row.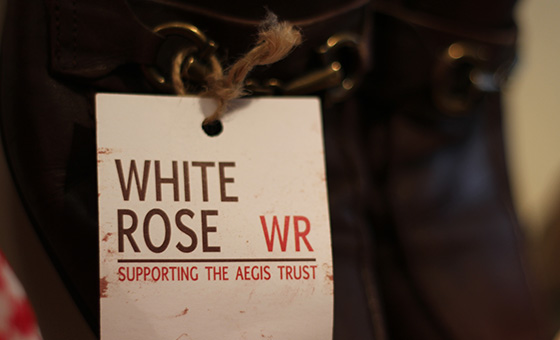 White Rose shops bring affordable recycled fashion to the high street, handpicking the best clothes and accessories
and making the most of the public's donations to provide the Aegis Trust with an invaluable channel of sustainable financial support.
Started in Nottingham, 2009, by two Nottingham Trent University graduates who took part in Aegis' 'Discover Rwanda' trip in 2008, a second shop was opened in 2011.
The shops are named White Rose in honour of the White Rose student resistance group in Nazi Germany in the 1940s. They have established themselves as very popular stores within Nottingham, with a large regular customer base.