In the first three episodes of 'Peace at Risk in Bosnia', released by Aegis in December, we explored the roots, context and potential solutions for the present crisis in Bosnia and Herzegovina, where a return to armed conflict is threatened 26 years after the Dayton Peace Accords ended war and genocide in the country.
Join us live, March 11th, to reflect on the Balkan fall-out of Russia's Ukraine invasion:
In this event, being recorded for Episode 4 in this occasional podcaset series, we will revisit those threats to peace in Bosnia, considering developments on the ground – and the international response – reflecting in particular on the Balkan fall-out from Russia's invasion of Ukraine.
Places are limited – click here to secure your seat now:
Who you'll hear from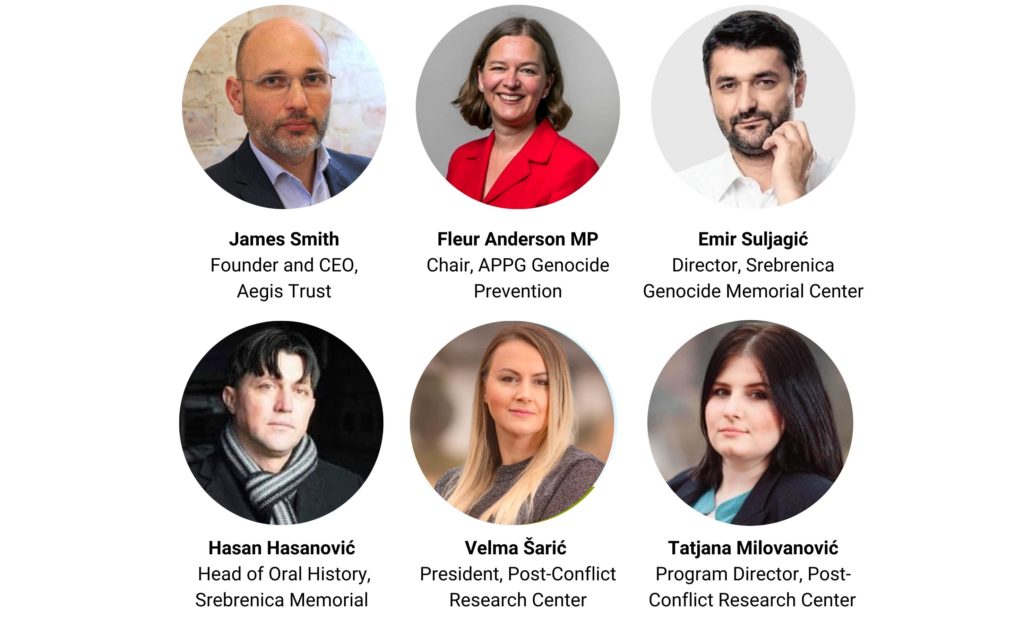 Unpacking developments
The event will open with an interview by Dr James Smith with Hasan Hasanović. Head of Oral history at the Srebrenica Genocide Memorial, Hasan is himself a survivor of the genocide with a powerful and important story to tell.
This will set the tone and context for what follows: a round-table discussion featuring James with Fleur Anderson MP, Chair of the All-Party Parliamentary Group for Genocide Prevention, and Emir Suljagić, Director of the Srebrenica Genocide Memorial Center, unpacking recent developments in Bosnia and the ways in which Russia's invasion of Ukraine could inform what comes next.
Concluding the event, Fleur Anderson will interview Velma Šarić and Tatjana Milovanović about the peacebuilding work in which they're engaged through the Post-Conflict Research Center in Sarajevo; vital work to help Bosnia move toward long term stability.
Don't miss it – register now to get your seat: