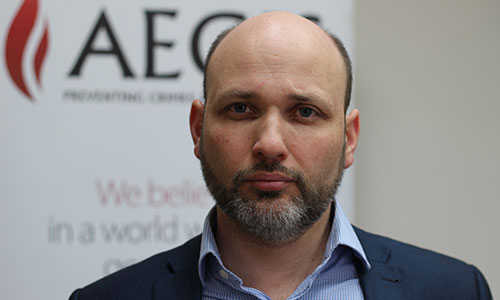 Dr James Smith
Founder & CEO
James Smith is a co-founder of the UK National Holocaust Centre along with his brother Stephen and parents.
During the Kosovo crisis in 1999 he was a volunteer physician with the International Medical Corps (He was a trainee surgeon, having qualified as a medical doctor in Leeds, 1993). The late, costly and destructive international response to the ethnic cleansing Kosovo Crisis convinced James that the public health approach to the prevention of diseases should be applied to the prevention of  genocide.
James co-founded the Aegis Trust in 2000 and remains the Chief Executive Officer. In 2002 he staged the first major international conference on genocide prevention with the UK Foreign Office (held at The Holocaust Centre).
In 2004, working with the Rwandan Government and Kigali City Council, he played a key role in establishing the Kigali Genocide Memorial in Rwanda's capital, at a site where some 250,000 victims of the 1994 genocide lie buried. It receives tens of thousands of visitors each year, world leaders among them.
James visited Darfur in 2004 and led Aegis Trust's campaign to limit the crimes against humanity in the region. He has subsequently revisited both Sudan and South Sudan.
The Peace Education programme led by Aegis Trust in Rwanda is now being applied as a tool for prevention by community leaders in countries at-risk of mass atrocities, notably in Central African Republic, South Sudan and Kenya.
James is the President of the UK National Holocaust Centre. He was awarded the CBE in the New Years Honours List in 2014 for services to Holocaust education and genocide prevention.